Prepaid TV
Simply connect it and enjoy
The flexible TV solution
Always there. In the living room, bedroom or kid's room, at your friends' place, in a shared apartment or in your holiday home in Switzerland. Just take it with you and connect it! Are you moving out soon? Update or cancel your TV subscription at any time and with no long waiting period. And all this at the best possible price. You can use our TV box anywhere in Switzerland.
A TV subscription without the risk: you can cancel monthly at no cost after the first 3 months! Our price includes a TV box and the first 3 months of TV subscription! 160 TV channels in the basic subscription, 75+ in HD.
Multiple languages
We have TV channels from many regions of the world. 75 German, 38 French, 26 Italian, up to 38 English TV channels (including optional channels). Turkish channels are available optionally.
Channel list
Basic package
Channels: 161
Language pack englisch
Channels: 28
Language pack turkish
Channels: 9
Prepaid TV
CHF

124.80
TV-PLUS TV Set-Top-Box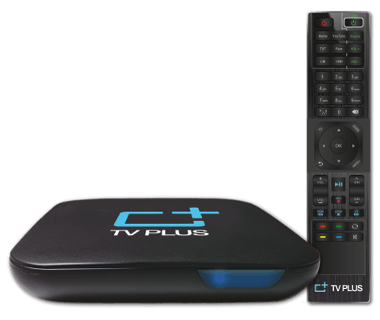 Ready to use in just a few minutes
Free delivery
TV Box incl. 3 month TV subscription
160 TV channels with more than 75 in HD
You can cancel monthly at no cost after the first 3 months
TV subscription only CHF 24.90/month from the 4th month for the basic package
English Package: 28 channels, including 7 in HD. CHF 7.50/month
Turkish Package: 9 channels. CHF 13.50/month
7-day Replay
Live Pause
Up to 1'000h recording
10'000+ radio stations and podcasts
Video on demand with 5'000+ movies & TV series
Pre-installed Apps: YouTube, Netflix, Sky Sport, Sky Store, Sky Show, My Sport Go
Over 250 channels including all options
TV-PLUS TV Set-Top Box, 105x105mm, 160g
TV-PLUS remote control
TV-PLUS quick start guide in German, English and French
AAA-Batteries (2 pcs)
Power supply
2-meter HDMI cable for your TV
3-meter Ethernet cable for the Internet
All prices in CHF incl. VAT.